Religions span national, geographic, cultural and ethnic boundaries and may be the focus of individual and family identification.
Religious institutions and observances play an important role in catering for people's social, psychological and cultural needs as well as their spiritual needs.
n the 2016 Census, Christian religion affiliations were reported by 52% of the population. Non-Christian religions represented about 8% of the population. About 39% of the population stated they had no religion or did not state their religion.
The 2016 Census recorded over 120 different religious denominations each with 250 or more followers. The religious composition of the States and Territories varies.
Source: Australian Bureau of Statistics 2016, Customised tables
Australia's major religion is Christianity with the major denominations including Catholic, Anglican, Uniting Church, Presbyterian and Reformed, Eastern Orthodox, Baptist and Lutheran. The two major denominations, Anglican and Catholic, account for 36% of the Australian population.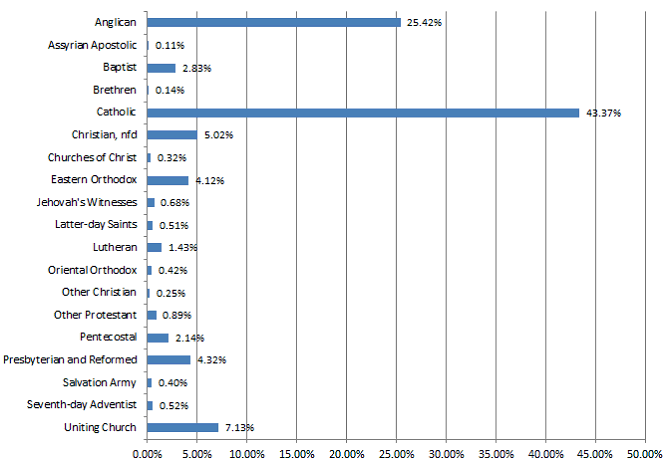 Source: Australian Bureau of Statistics 2016, Customised tables
Non-Christian religions in Australia include Judaism, Hinduism, Buddhism and Islam. Islam is the largest non-Christian religion and accounts for around 3% of the total population.
Buddhism, the second largest non-Christian religion represented in Australia, today accounts for 2% of the total population. Hindus and Jews account for 2% and less than 1% of the total population respectively.

Since contact, Aboriginal and Torres Strait Islander people have been affiliated with various religions.
However, for Aboriginal and Torres Strait Islander people, the concept of 'spirituality' refers to a more holistic view of life – in particular one's link with the land, sea and air. Consequently, this relationship confirms one's identity and place as an Aboriginal person and or a Torres Strait Islander person.
There are no words in English to appropriately describe Aboriginal and Torres Strait Islander spirituality. The term 'Dreaming' has been associated with Aboriginal spirituality but does not adequately reflect its complexity or the fact that the 'Dreaming' permeates every aspect of Aboriginal cultures and societies. 'Dreamings' will vary from group to group.
For Torres Strait Islanders, terms such as 'Before, Before time'; 'Before time'; 'Kulai tonar'; and 'Zogo time' are markers that identify the time prior to contact and the introduction of religion into the Torres Strait Islands. Like the Aboriginal Dreamings, Creation Stories or Legends from the Torres Strait Islands provide a basis for their identity.
In the 2016 Census, about 8,100 people were recorded as practising Australian Aboriginal traditional religions.
[1] Defined as born outside the 'Main English Speaking Countries' of Australia, Canada, Ireland, New Zealand, South Africa, United Kingdom and the USA
[2]  For Australian Indigenous languages and creoles, "actively spoken" refers to 150 speakers or more.
[3]  Excludes Christmas Island, Cocos (Keeling) Islands, Jervis bay Territory and Australian external territories.
[4]  Remainder "not stated" or "inadequately described".
[5]  See Note 1 above.
[6]  Includes England, Scotland, Wales, Northern Ireland, Channel Islands, Isle of Man and United Kingdom not further defined.
[7]  Excludes Hong Kong, Macau and Taiwan.
[8]  Other territories include Christmas Island, Cocos (Keeling) Islands and Jervis Bay Territory.
[9]  Department of Home Affairs, Australia's Offshore Humanitarian Programme: 2015-16 [pdf]
[10] Includes languages with 150 speakers or more