Sunday 2 July – Sunday 9 July.
The theme for NAIDOC Week 2023 is For Our Elders.
National NAIDOC Week recognises and celebrates the rich history, diverse cultures and achievements of Aboriginal and Torres Strait Islander peoples.
This year's theme, For Our Elders, honours the important role Elders play, and the prominent place they hold, in Aboriginal and Torres Strat Islander families and communities. They are trailblazers and holders of cultural knowledge. They lead, guide, advocate, and nurture.
For Our Elders pays homage to Elders long gone and those who continue to fight for the rights and self-determination of all Aboriginal and Torres Strait Islander peoples. It is through their strength, tenacity, courage, resilience and indefatigable spirit that Aboriginal and Torres Strait Islader peoples can
move forward with conviction and pride,
continue to amplify their voices, and
fight to secure meaningful institutional reform and recognition.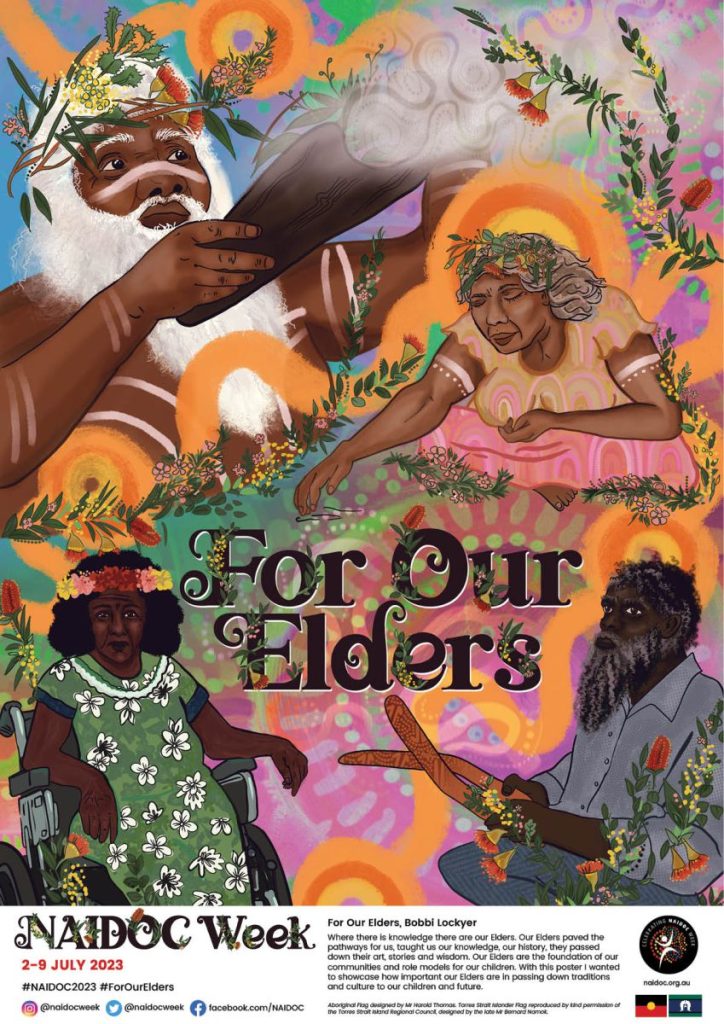 2023 National NAIDOC Week Poster
The 2023 NAIDOC  was designed by Bobbi Lockyer, a proud  Ngarluma, Kariyarra, Nyulnyul and Yawuru artist from Kariyarra Country in Port Hedland. 
To find out more about the story behind the poster and to download a copy, see: NAIDOC Week 2023 Poster
For more information about NAIDOC Week and NAIDOC week events and resources, visit the NAIDOC website.
The information provided here is sourced and summarised from the NAIDOC website.
Additional resources
Share our Pride is a website designed by Reconciliation Australia to assist organisations to understand more about the lives and cultures of Aboriginal and Torres Strait Islander peoples and how to improve relationships with Indigenous Australians.
The Australian Institute of Aboriginal and Torres Strait Islander Studies website promotes knowledge and understanding of Aboriginal and Torres Strait Islander cultures, traditions, languages and stories, past and present.