Making a Difference! (2005-2007)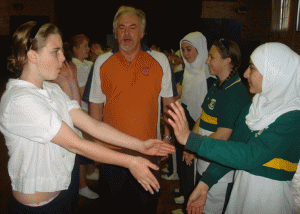 Jannali High and Beverly Hills Girls have come together in Literacy and Numeracy Week to promote learning together. Both students and staff have found the experiences rewarding and the activities exciting.
Last year, students from both schools read together and discussed the similarities and differences in the daily lives and family expectations. This year, the project was expanded to include students from year 7, 8 and 9 participating in activities held over two days.
One Beverly Hills Girls student reported:
On Monday 3rd September, 20 Bevo girls attended the Rock and Water Program at Jannali High School. This program enabled us to build our self-esteem and our confidence in protecting and defending ourselves. It also enabled us to get to know the Jannali students better. The program was interesting and it taught us all about self-control.
Jannali students showed so much hospitality towards us. They even prepared a special barbeque for us. They also had a welcome greeting for us on their notice board. At first we were shy and walked in with our heads down. We left Jannali High with our heads up and our shoulders back! One of the activities of the program was to build our strength. It was not like body building but rather we had to centre our weight to be able to overcome any obstacles we faced. We had to sense what was around us, learn to walk away from a fight with dignity and to control our actions. The instructor of the program was also the Deputy Principal of the Jannali High School, Mr Palmer. He set up all the activities and he even joined in…. and yes, he was thrown to the ground by a year 7 girl!
The day was fantastic and we were all grateful for the opportunity we received.
On Tuesday 4th September 2007, girls and boys of Jannali High and Beverly Hills Girls High Schools participated in the Making a Difference activity at Beverly Hills Girls High School. Students worked together to create posters and advertisements highlighting working together as Australians to "make a difference" in our communities. They presented work which celebrated their achievements. This group has worked together for two years and has made lifelong friendships.