A continuing country/city exchange program.
In this exchange, students from Campbelltown Performing Arts High School return to visit their friends at West Wyalong High School to build on the links already established over previous years.
In 2008, West Wyalong High School continued to exchange with Campbelltown Performing Arts High School in a program that has been continuing since 2006. As a part of this exchange, students from the schools held demonstrations, seminars and discussions on various topics including culture and tolerance and came together to participate in joint activities.
One activity jointly undertaken by students at the schools was participation in Cooling Conflicts, a drama based conflict resolution program. The program includes a number of workshops designed to provide students with conflict management and resolution strategies. Comments from students involved in the program included: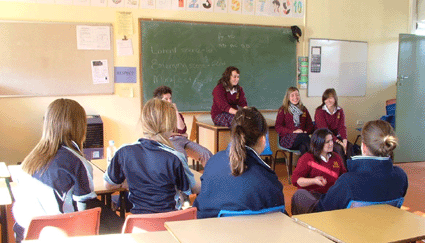 Cooling Conflicts was a beneficial experience for all involved.
Other activities included in the 2008 exchange included a tour of the Lake Cowal Gold Mine, sheep shearing and feeding of stock on a local farm. For students from West Wyalong, there were opportunities to engage in singing, drama and circus skills which were highlighted at a performance night.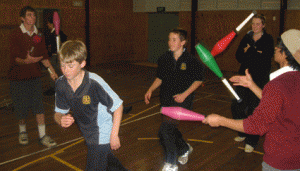 It was great performing with the students from West Wyalong.
During the exchange, students from Campbelltown Performing Arts were billeted by local families and for many of these students it was their first billeting experience. This exchange program has provided students with yet another opportunity to exchange knowledge and skills associated with life in the country and the city. The teachers and students involved in this co operative exchange look forward to many more positive interactions over coming years.
Campbelltown Performing Arts High School is a comprehensive school serving the local community and a specialist performing arts school for the Macarthur area. West Wyalong High School is a comprehensive school that enjoys strong community support and respect. Centred in a wheat and canola growing area, the school draws students from both the town and surrounding districts.
Previous Exchanges
In previous exchange programs involving the two schools, students have participated in:
various workshops focusing on areas such as singing, aerobics, traditional dances, world religions, personal development, domestic violence and anti-bullying
social events including a barbeque, farm visit, town tour and a public concert with performances by students from both schools
cultural dance classes where West Wyalong High students dances learnt Samoan dances similar to the Hakka
aerobics routines and activities based on street dancing.
West Wyalong High School has been recognised for its involvement in this ongoing exchange program winning the Bland Shire Australia Day Community Event of the Year award.