Lismore High and Evans Intensive English Centre bringing refugee students together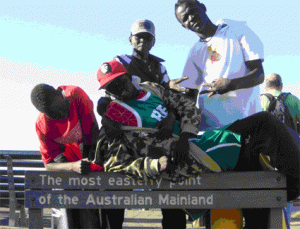 In this exchange, newly arrived refugee students from two very different parts of NSW come together.
The purpose of this program was to help refugee students, many from Sudan, link up with others from similar countries as themselves and to share experiences. In this exchange, students from two distinctly different parts of NSW come together, a million miles from refugee camps and the trauma of war.
Lismore High School is located in the "Rainbow" region of the far north coast of NSW. It has a student population of over 800. Students come largely from English speaking backgrounds, however the school has  significant numbers of Aboriginal and refugee students. Evans Intensive English Centre (IEC) is located in Blacktown, a busy, multicultural suburb in western Sydney. It caters for newly arrived students who require intensive tuition in English. Evans IEC has approximately 150 students, many of whom are refugees.
Evans IEC visits Lismore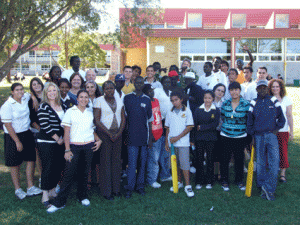 In May 2007, 16 students from Evans IEC made the long, ten-hour journey by mini-bus up the Pacific Highway to their final destination – Byron Bay Youth Hostel. The students were to meet with students from Lismore High School.
As a part of the program, Lismore High School organised a number of activities for their guests including: visits to other schools, including Crabbes Creek Public School;a Harmony Day game of cricket with members of the local Aboriginal Cricket Team;a walk up to Byron Lighthouse; as well as shopping and fish and chips on the beach. Lunch in a mud brick homestead reminded many of the students of mud brick dwellings in Sudan. Other activities included a visit to Mooball Produce Farm where students saw whip cracking, equestrian and sheepdog displays and participated in horse riding.
Other memorable moments for students included:
dinner at the Byron RSL
breakfasts at the local shops
5am walks along the beach where many students had never seen the sun rise over the ocean before
annual Cross Country Carnival at Lismore High School which included a 3 km run along Lennox Head Beach
a school barbeque
a snooker game at the YHA between students from both schools and,
a sleepy bus trip home.
All of the students kept a diary of their five day exchange. All of the diary entries expressed the sense of adventure and wonder at experiencing an area outside of their familiar local urban environment. Few of the Evans IEC students had been out of an urban environment since arriving in Australia. Some entries described the exchange as the best days of students' lives. Others expressed a sense of peace and quiet that had not been felt by students for a very long time.
Back at the IEC, students had increased confidence and continued to communicate with students from Lismore. Some of the boys even organised a visit to see their Lismore mates in the school holidays.
Lismore visits Evans IEC
Several months later, 15 Lismore High School students from Sudan, China, Papua New Guinea and Thailand arrived on an overnight train from Lismore to stay at a Youth Hostel near Sydney Central Station.
On the first day in Sydney, they visited Evans IEC. Over the course of the next few days, students from Lismore High and Evans IEC together visited Featherdale Wildlife Park and the Opera House; walked across the Harbour Bridge to North Sydney; and caught a ferry to Darling Harbour where they had lunch, saw a 3D movie at the IMAX,  and visited the Chinese Gardens and Sydney Aquarium.
By the end of the exchange program, students who were still in a process of absorbing the culture shock of adapting to a new way of life, had forged new friendships and experienced both urban and country life in NSW. For the teachers involved, it was a humbling and enriching experience.
Program highlight
In the History classroom at Evans IEC, two friends were re-united. The last time they had seen each other, they were in the sprawling refugee camp of Kakuma in Kenya. Before this exchange program, they had no idea what part of the world their friend had ended up in!