Engadine High School has been conducting cultural exchange programs for many years.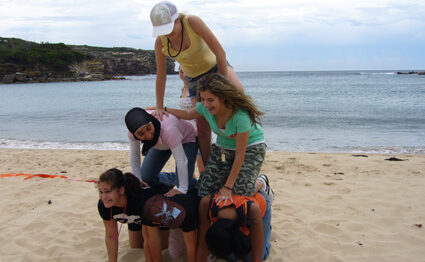 The school, which is located in southern Sydney, has a population of students from mainly English speaking backgrounds. 
It has a long history of exchanging with schools with varied and diverse student populations.
Teacher-Librarian, Cecilie Yates has been the driving force behind this successful program over the years. Ms Yates says: 
The program is broad and diverse and combines environmental education, values education, Discovering Democracy and leadership programs as well as Aboriginal and multicultural education. Students explore various issues through the arts, sport and other areas of interest.
Throughout 2007, the school was involved in cultural exchange programs with a number of schools including Birrong Girls High School, a school with a culturally diverse student population located in the southwest of Sydney.
Birrong Girls and Engadine High Schools have been jointly conducting cultural exchange programs over a number of years. The busy 2007 program aimed to develop cultural and religious understanding and began with a group of Year 12 Engadine High and Birrong Girls High School students assisting with the International Women's Day Breakfast. The students listened to the official speaker Malalai Joya, an Afghan politician, speak out against the inclusion of former Mujahideen in the current government of Afghanistan.
In June 2007, Birrong Girls High School invited Year 8 students and the Student Representative Council (SRC) students from Engadine High School to participate in their Understanding Diversity multicultural event. The group Drumbeats performed and students participated in dance and music workshops.
In July, SRC students from Birrong Girls and Engadine High Schools visited St Mary's Cathedral and The Great Synagogue to discuss issues relating to Christian and Jewish religions. This was later followed by a tour of the mosque in September where students participated in workshops regarding Islam. In Term 4, students visited the Nan Tien Temple where staff at the temple conducted a tour and discussion of Buddhism and culture.
At the end of the year, students from both schools participated in an Environmental Leadership Program and Multicultural Picnic at the Royal National Park. This event included both Year 7 and SRC students.
Cultural exchange activities involving Engadine High and other schools in 2007 included:
Engadine High School students attending the Sydney Town Hall as part of Harmony Day celebrations. Drama students performed and others made speeches and listened to speakers including Anita Heiss, a member of the Wiradjuri nation of Central NSW and one of Australia's most prolific and well known Indigenous authors.
Engadine High School hosting the Regional SRC Conference. The conference involved students from schools in the Sutherland Shire and included workshops on leadership, values and cultural understanding.
Engadine High SRC students showcasing  their cultural exchange projects at the International Citizenship Conference for Academics, Sydney University. Other schools involved in the day's events included Heathcote, Jannali and Gymea High Schools.
Year 9 students from Engadine High participating in the Values Forum at Sutherland Entertainment Centre along with staff, parent and local community members.
Engadine High School organising an Italian Multicultural Day. Year 7 and 8 students from Cabramatta and Beverly Hills High Schools were invited to participate in a discussion on Australian Values and Culture.
Year 6 students from Loftus Primary School and students from the SRC at Engadine High participating in the Taronga Zoo Zoo Snooze program.