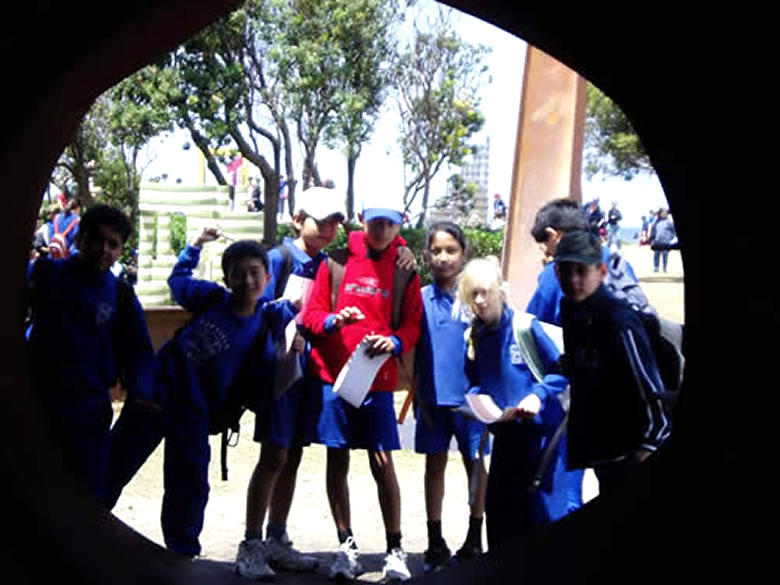 Ashfield Public School has a long history in cultural exchange. Through many initiatives, it prepares its students and their families for effective participation in Australian society and the world.
Ashfield Public School is a multicultural school in Sydney's inner west. Over 80% of students come from language backgrounds other than English and a significant number of these students are Chinese speakers and new arrivals.
For many students at Ashfield Public School and their families, the school is their first contact with Australian society and customs. As such, the school sees itself as a community "centre" or "hub" where information on community support, ideas and interests can be shared and exchanged. The school serves as a meeting place for local communities offering programs that allow students and their families to adapt to the Australian way of life while maintaining their cultural heritage and identity.
With this focus, the school's cultural exchange program is broad and varied to cater for the diverse cultural needs of the students and the community. The various activities, which aim to break down barriers, create understanding and promote community harmony, are summarised below.
Cross-cultural activities offered at the school include:
Language specific workshops including parenting skills, cross-cultural dialogue sessions with parents, workshops on curriculum and social skills for children, Restorative Practice Workshops, values forums, and Information Technology workshops. Interpreters assist in many of these workshops to help to create strong communication ties and a supportive environment.
TAFE classes for parents including English courses, volunteer courses and courses which encourage the up skilling of new migrants and assist families in finding employment.
Community workshops on the comparison of education systems and parenting skills run by Ashfield Council and Chinese Association (CASS).
The recognition of a wide range of cultural days each year including Chinese New Year, St Patrick's Day, Ramadan and Diwali, as well as Australia Day and ANZAC Day.
The creation of the Wangal Playground, a joint community partnership with Wests Leagues Club. Through this initiative, the school sends a strong message to the community that past traditions, present practices and future dreams of Australia are acknowledged and valued.
New Horizons -Building Cross Cultural Community Bridges. This program is a community program funded by the Department of Immigration and Citizenship. The program was established to assist new arrivals overcome social isolation and access community support networks. During 2008, New Horizons activities included the celebration of Harmony Day, NAIDOC celebrations, the Arts Festival and International Food Fair. The Arts Festival is a cross-cultural celebration which showcases the visual and performing arts. Performances at the festival include dancing from China, Pacific Islands and India, Turkey, drumming from Africa, and cultural music, songs and displays of visual arts from around the world. Community performers participate with students to make this an exciting and inclusive annual school-community partnership event. The Fun Food Festival included preparing Australian, Indian and Chinese food and cooking a South Pacific Lovo.
Pre-school education
Ashfield Public School shares its geographic site with a pre-school and Ashfield Boys High School. Good Beginnings, which is a national charity providing early childhood intervention, is part of the pre-school education program, successfully supporting families with children from 0 – 5 years. The twice weekly Play and Learn Program encourages families from across all cultural backgrounds, to learn and socialise through a variety of play activities as well as providing parenting information and support. Families can learn English language in an informal and relaxed environment, as well as participating in a cultural exchange of ideas.
Families and local pre-school children are also invited to participate in a year long Transition to School program and school functions such as Harmony Day and special assemblies. This friendly atmosphere allows for positive cross-cultural interaction and helps children settle easily into the Australian education system.
Partnerships with other schools
Ashfield Public School participates in a number of joint activities with Ashfield Boys High including the "Ashfest" Cultural Day, leadership forums involving both schools' Student Representative Councils and participation in school assemblies.
Ashfield Public School has also been involved in cultural exchange programs with other primary schools including Bundeena Public School.
For more information, see Ashfield Public School and Bundeena Public School.
Overseas school visits
The school has a long association with the NSW Department of Education and Training International Studies and Professional Exchange Program which provides continued relations with international schools. Visiting educators from many parts of China, Singapore, Thailand, Korea and Japan have observed educational practices at the school through demonstration lessons and participation in professional dialogue. In return, the students and teachers of Ashfield Public School gain an insight and understanding of the school cultures, practices and educational programs of other countries.
The school is currently exploring the possibility of an overseas exchange with a school in China as a part of the Sister Schools Program.