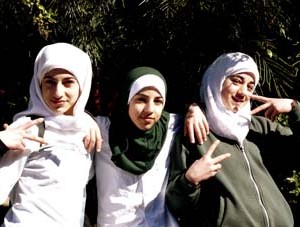 Cast two very different Sydney high schools together to produce a film about youth culture and the result is We are all Australian. This film was produced by the students and teachers of Strathfield South and Windsor High Schools and provides an insight into the diversity of youth culture. Margaret King, former Head Teacher Welfare at Strathfield South conceived the idea to give her students a voice. Her energy and determination provided those who participated with a chance to explore and express themselves through film.
Strathfield South High School is a co-educational, comprehensive school in Sydney's south west with 76% of students coming from language backgrounds other than English. In contrast, Windsor High School in Sydney's north west has a student population which includes 10% of students from language backgrounds other than English and many students from rural communities. We are Australian challenges media stereotypes by presenting the many and varied voices of Sydney's young people.
The initial goals of the project included:
highlighting the common core values of all Australian youth cultures
highlighting the need for communities to understand and accept differences
celebrating the multicultural nature of the community
assisting students to understand their own youth culture and cultural backgrounds.
dispelling some of the negative media portrayals of youth from Middle Eastern backgrounds.
A core group of students were selected from each of the schools to participate in a variety of activities including workshops; lectures; excursions to mosques, St Mary's Cathedral, Parliament House, a Lebanese restaurant; and barbecues where students and teachers came together to discuss the content and approach of the project.
During the project, Professor Catherine Lumby provided insight into the media and its response to events; students met with politicians; worked with resilience facilitator Peter Slattery; and learned about fear, Aboriginal perspectives and the impact of high risk/anti–social behaviour. Students and teachers developed film making skills including lighting, setting camera angles, editing, interviewing/public speaking, research, film publicity and promotion and project management.
The film and accompanying education resource have been distributed to schools across Australia. For more information contact the Department of Immigration and Citizenship, Living in Harmony team on 02 6264 7175.